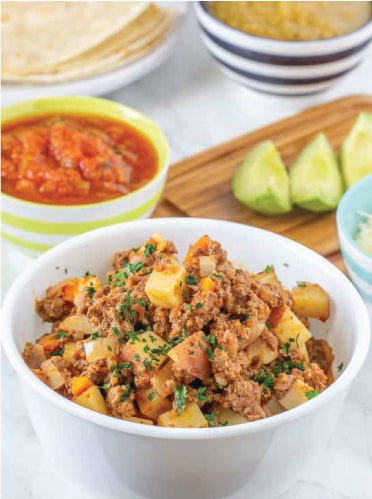 PROTEIN PACKED BISON CHILI
Bison is already a low calorie, high protein meat. In fact, Bison is a leaner protein than chicken!  This chili is easy to make and packed with protein and vegetables, making it an easy meal the whole family can feel good about.
Ingredients:
1 lb ground bison
2 cloves garlic, peeled and minced
1 16 oz can crushed tomatoes
1 red bell pepper, chopped
1 yellow onion, chopped
2 16 oz can red kidney beans
1⁄2 tsp red pepper flakes
1⁄2 tsp paprika
Kosher salt and pepper to taste
Directions:
1. Place a large, covered pot over medium heat
2. Add oil and brown bison meat in oil for 3-4 minutes
3. Add onions, bell pepper and garlic, cook until onions are translucent and fragrant, stirring constantly.
4. Add kidney beans, crushed tomatoes, red pepper flakes, paprika and salt and pepper. Stir and cover.
5. Simmer on low for 20-25 minutes, stirring occasionally.
6. Enjoy!