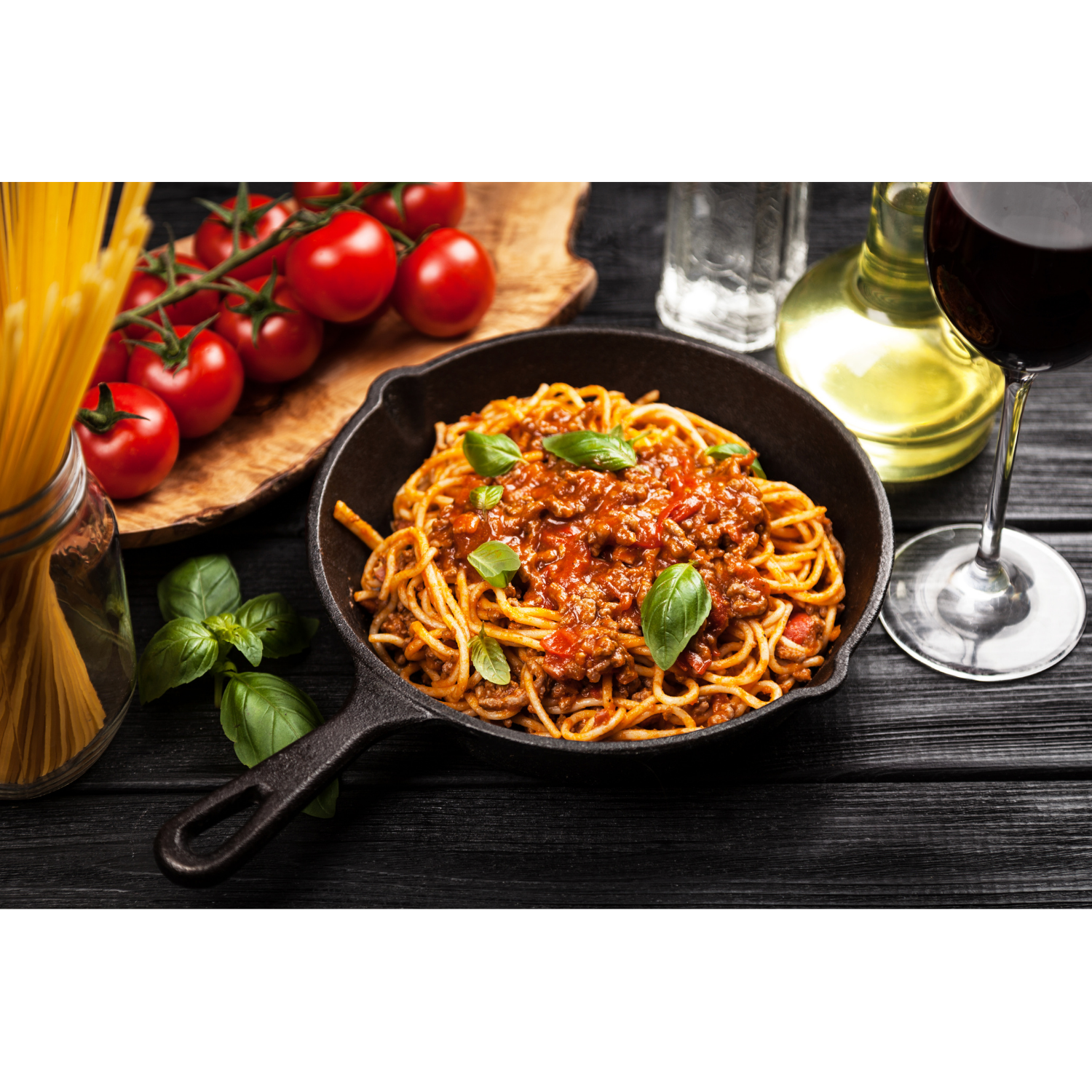 Bison has a naturally delicious, oily texture– lending itself extremely well to pasta dishes. This is a great last minute meal because a lot of ingredients can be substituted with what you have in the pantry, saving you a trip to the grocery store on a busy weeknight! 
Ingredients:
3 tablespoons olive oil, plus more to finish
1 pound ground bison
1/2 yellow onion, chopped
1 finely chopped carrot 
1 sprig fresh basil (sub 1 tsp dried if fresh is not available) 
2 cloves garlic, peeled and smashed
1 teaspoon kosher salt, plus more for pasta water 
1 28-ounce can crushed tomatoes (can crush yourself if desired) 
1 cup dry white wine (can sub red if available) 
1 pound pasta of your choice, such as pappardelle or fettuccine 
Directions:
Place a large, covered saucepan over medium high heat. Heat olive oil and add ground bison, breaking apart meat as you do so. Cook until meat is lightly browned, about 5-6 minutes. 

Add onion, carrot and garlic to the pan, as well as 1 tsp salt. Stir to combine and cook until vegetables become soft and fragrant, or about 3 minutes. 

Deglaze pan with white wine, using a spoon or spatula to scrape up the browned meat and vegetables (this combines with the wine to add a delicious dimension of flavor) 

Allow vegetables, meat and wine to simmer, uncovered, on low heat for 5 minutes. 

Stir in crushed tomatoes, basil, and remaining salt. Return sauce to simmer for another 20-25 minutes. 

Meanwhile, bring a large pot of water to boil, generally seasoned with kosher salt. Cook pasta as directed

Add cooked pasta directly to the sauce but lifting it out of the pasta water with tongs. Do not drain– the additional water on the pasta loosens the sauce and adds flavor. Throw pasta water away and toss pasta in sauce. Add olive oil as desired. 

Enjoy!