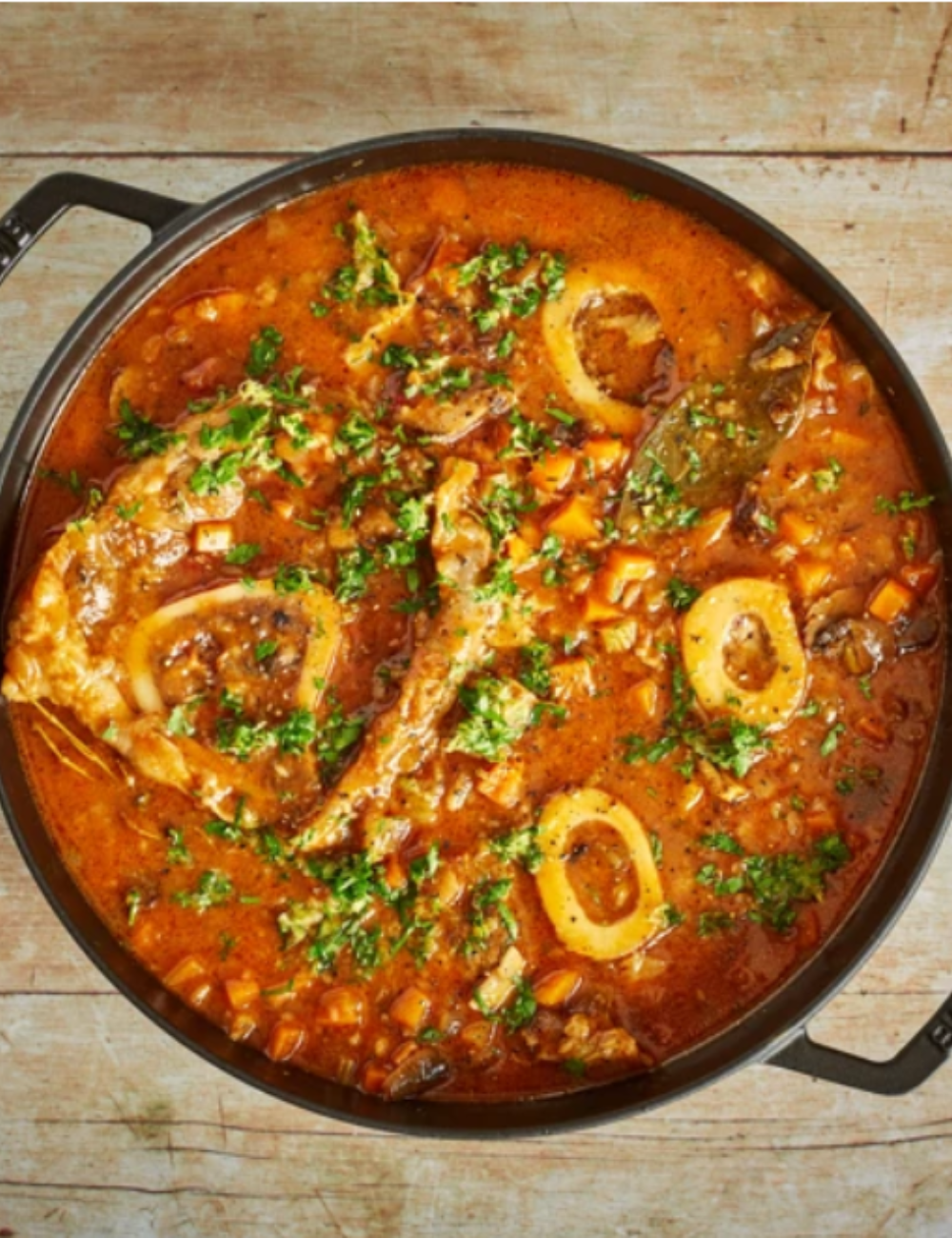 Ossobuco alla Milanes

Ingredients:

4 beef bone marrow pieces
4 veal shanks, about 1 inch thick
1 cup all-purpose flour
Salt and pepper
1/4 cup olive oil
2 cups beef broth
1 cup white wine
1 onion, finely chopped
2 celery stalks, finely chopped
2 carrots, finely chopped
4 garlic cloves, minced
2 tablespoons tomato paste
2 bay leaves
1 teaspoon dried thyme
1 teaspoon dried rosemary
1 lemon, zest only
1/4 cup fresh parsley, chopped

Instructions:

Preheat the oven to 375°F.
Sprinkle the veal shanks with salt and pepper and coat them in flour, shaking off any excess.
Heat the olive oil in a large oven-safe pot over medium-high heat.
Sear the veal shanks on both sides until browned, about 3-4 minutes per side.
Remove the veal shanks from the pot and set them aside.
Add the onion, celery, carrots, and garlic to the pot and sauté until softened, about 5-6 minutes.
Add the tomato paste and stir for another 2 minutes.
Add the beef broth, white wine, bay leaves, thyme, rosemary, and lemon zest to the pot and bring it to a boil.
Return the veal shanks to the pot and spoon some of the sauce over them.
Place the beef bone marrow pieces in the pot.
Cover the pot with a lid and transfer it to the preheated oven.
Cook for about 1 1/2 to 2 hours, or until the veal shanks are tender and cooked through.
Remove the pot from the oven and take out the veal shanks and bone marrow pieces.
Remove the bones from the bone marrow pieces and spoon the marrow into a small bowl.
Place each veal shank on a serving plate and spoon some of the sauce over it.
Top each veal shank with some of the bone marrow.
Sprinkle with chopped parsley and serve hot with your favorite sides.