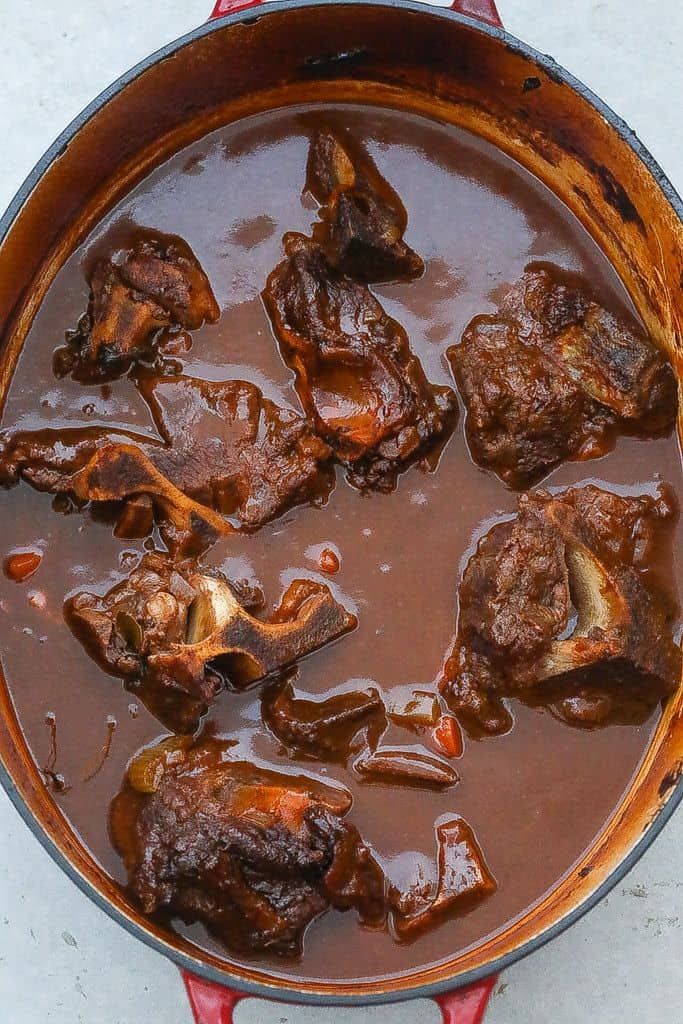 BRAISED BEEF NECK BONES RECIPE
INGREDIENTS
Grapeseed oil, for searing (or any other neutral oil)
4 pounds beef neck bones
Kosher salt, to taste
1 onion, sliced
2 cloves garlic, smashed
1 tablespoon tomato paste
1 teaspoon dried thyme
1/2 teaspoon black pepper
1/2 cup red wine
1 cup unsalted beef stock
INSTRUCTIONS
Preheat the oven to 325˚F.
Heat some oil over medium to medium-high heat in a Dutch oven (or other large, oven-proof pot). Sprinkle all sides of the beef with some salt and sear, in batches, until browned; set aside. (You might need to add more oil as you go through the batches of meat.)
In the same pot that you seared the meat in, add the onion (with more oil, if needed), sprinkle with some salt, and cook until the onion begins to soften, 1 to 2 minutes. Add the garlic cloves, tomato paste, thyme, and pepper, and cook for 1 to 2 minutes more. Deglaze with the red wine by scraping up the stuff on the bottom of the pan with a wooden spoon.
Add the reserved beef neck bones and beef stock to the pot, bring it to simmer, cover, and put in the oven to braise until fork tender, about 2 hours 30 minutes.